Please join the next Blue Tech Maryland monthly meeting on Wed, June 22nd at 2pm via zoom. The topic is: The Future of the Blue Economy and what that means for the Mid-Atlantic Region. We'll have a robust discussion for all!
Michael Conathan
. Ocean Policy Expert focused on regional sustainable marine and maritime initiatives.
Please register
here
.
Please join the next Blue Tech Maryland monthly meeting on Wed, April 27 at 2pm via zoom. The topic is: what do investors want to see in the blue tech/climate tech space? What trends are they seeing? What do we need to do to bring more money into the bluetech/climate tech space in Maryland We'll have a robust discussion for all!
Michael K Jackson, Sr
. International Trade Specialist at U.S. Commercial Service, the export promotion arm of the Department of Commerce's International Trade Administration.
Matt Hanson
, Co-Founder, Pax Momentum Fund
Ken Malone
, Founder, Early Charm
Please register
here
.
To discuss related regulations and opportunities for funding from MEA the Maryland Energy Administration:
Samuel Beirne
, Energy Program Manager, Wind and Water Program, and
Emma Stoney
, Wind and Water Program Manager, Maryland Energy Administration.
MEA's deck is posted here.
To discuss what Orsted is doing in Maryland, what it needs from the entrepreneurial community:
Brady Walker
, Head of Government Affairs and Strategy at Ørsted Offshore North America.
To speak from the startup perspective:
Pranay Kohli
, CEO, ACTIVEcharge, and
Soobum Lee
, Associate Professor, University of Maryland Baltimore County, Founder & Chief Innovation Officer, ACTIVEcharge, will what they're working on and what they need from BlueTech Maryland.
And to discuss how we can lift up beyond Maryland - comparing Maryland to other nearby states – what Maryland needs to do to be relevant in offshore wind, we'll welcome
Carrie Cullen Hitt
, Executive Director at National Offshore Wind Research and Development Consortium
Register in advance for this meeting
.
After registering, you will receive a confirmation email containing information about joining the meeting.
February 23, 2022 meeting- Aquaculture in Maryland
Deck Here
What is Blue Tech?
Showcase on:
DataKwip
Showcase on:
Furbish Co
.
November meeting conclusions
What's Next? And Intermediate Steps
Calls to action, including updates from
Tim Male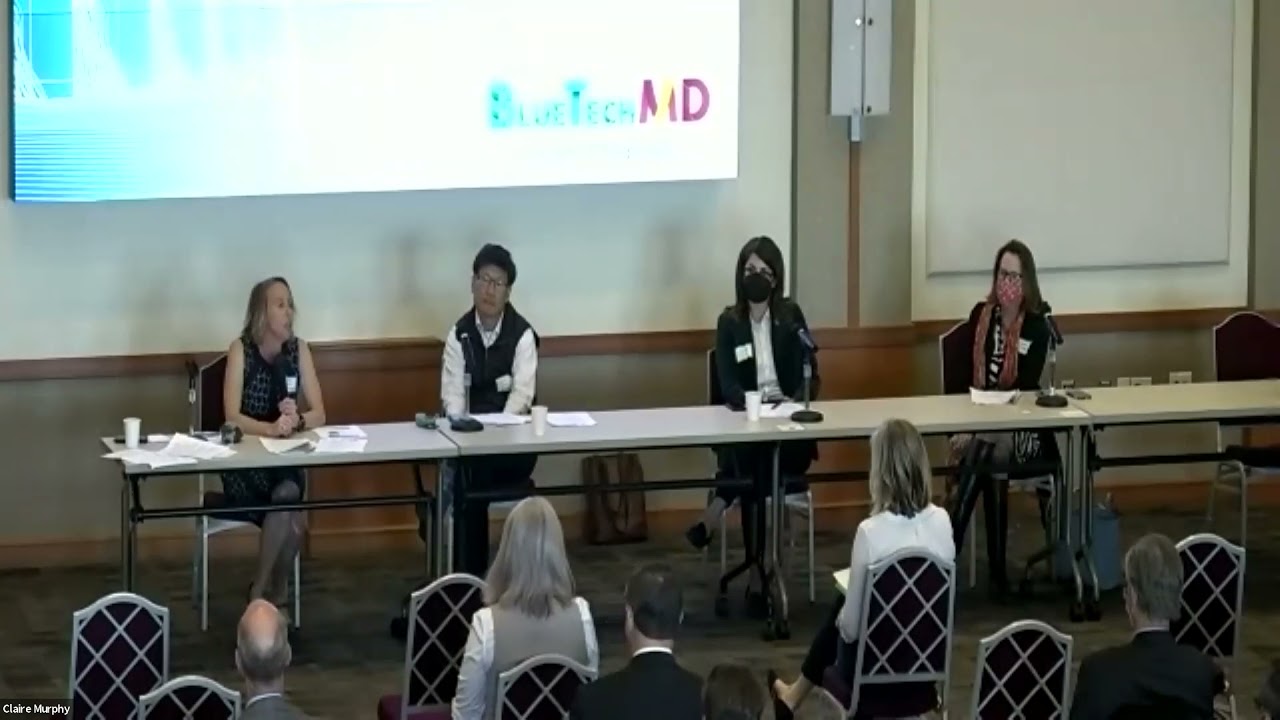 Blue Nexus: november 16, 2021
BlueTechMaryland held its inaugural event on Tuesday, November 16 at the University of Maryland, Baltimore. The goal was to discuss our cohesive narrative of what blue tech is, explain why Maryland can be one of the top three regional blue tech clusters of the country, showcase what is going on here, and engage investors and entrepreneurs interested in coming to Maryland.
If you missed the event, watch the video stream (just to the left).
One of our decks here:
The Future of the Port of Baltimore: Innovative Reuse of Dredged Material
10-10:25a:

Why Maryland -

Suzanne Dorsey

, Assistant Secretary, Maryland Department of Environment

What is Bluetech? -

Claire Broido Johnson

, Maryland Momentum Fund Introduce BlueTech categories -

Mark Huang

, Sea-Ahead

10:25-10:50a: Maryland policy alignment:

Sarah Elfreth

, State Senator

Sarah Lane

, Senior Faculty Research Assistant at University of Maryland




10:50-11:05a: The Future of Ports:

Kristen Weiss Fidler

, Director, Office of Harbor Development and and

Kristen Keene

, Strategy and Partnerships, at Maryland Port Administration




11:05-11:35a: Overview of Maryland Offshore Wind, Moderator:

Mark Huang

Matt Drew,

Infrastructure Construction Manager, Orsted

Sam Salustro

, Director of Coalitions & Strategic Partnerships, Business Network for Offshore Wind

Phil Croskey

, CEO, MD Energy Advisors

11:45-12:20p: Overview of Maryland Aquaculture, Moderator:

Sarah Lane

Ken Malone

, Founder, Early Charm Ventures

Johnny Shockley

, Founder, Blue Oyster Environmental

Suzan Shahrestani

, CEO, Minnowtech

Martin Kepinski-Kozaczek

, Program Manager, Northrop Grumman

1:15-1:35p: The Future of Seafood and What's Happening with NOAA in Maryland:

Michael Rubino

, Senior Advisor for Seafood Strategy at NOAA, National Marine Fisheries Service

1:35-2:10p: Investment in BlueTech in Maryland, Moderator:

Claire Broido Johnson

Aaron McCrady

, Director, Hannon Armstrong

Elise Liberto

, Partner, Brown Advisory

Cyrus Green

, Lead Manager, T Rowe Price

Flash Talks:

2:10-2:20p: European Financing Coming to Maryland -

Matt Enright

, CFO, OTAQ

2:20p-2:30p: Attender - Intelligence Platform for Maritime Industry -

David Dolan

, CEO, Attender

2:30-2:40p: Dynamex - measuring and managing emissions -

Sunny Sanwar

, CEO, Dynamhex

2:40-2:50p: Plantet Found Energy Development -

Nicolas Cloyd

Planet Found

2:50-3p: What's Next? Calls to Action,

Claire Broido Johnson,

Mark Huang



Conclusions from November 16 Event
We had a BIG DAY - and this is just the start. Maryland has a solid and diverse group of capabilities and expertise to become a new Blue Economy Center of Excellence




What differentiates Maryland?
Conservation financing, Clean Energy Jobs Act (50% renewables by 2030), resilience authorities,

7000 miles of shoreline + watershed implementation plans + Chesapeake Bay Watershed Agreement = infrastructure in place to support BlueTech industries

1.2 GW of offshore wind to be in development - creating 9000 jobs ('once in a generation opportunity') - Maryland will create power and be an epicenter of the emerging supply chain

Deep, roll on roll off port connected to 140,000 jobs

Unparallelled aquaculture and particularly oyster restoration in the country's largest and most productive estuary

Proximity to federal labs, university systems, the wide breadth and depth of STEM based research capabilities through our Universities. STEM based research are typically the behind the scenes foundation for new economic cluster growth

the economically dense I95 corridor

'Smarter' waterfronts through advances in sensors and data analytics...

As we work to restore the Chesapeake Bay, Bluetech industries have the ability to add billions of dollars to Maryland's economy, while working towards a healthier Chesapeake Bay.

So What's Next - our goals include:

Help identify bluetech innovators in Maryland and, together, provide a/ stronger support base (through the concept of a Cluster) to not only succeed but to stay and grow in Maryland. Start ups will stay here because it makes sense to do so

Engage regional corporates, small and medium enterprises - what are their problems and how can entrepreneurs help solve them?

Attract early stage companies and figure out what they need (not just money needs but channel partners, advice, accounting, marketing, business plan support)

Create a diverse group of Advisors and Mentors that can support early stage MD bluetech startups. The actual mentoring may be virtual or may rotate at different physical locations such as existing co working and incubators in MD

Job board support

Create the equivalent of a Governor's Life Science Advisory Board but for blue tech

Gather all info in one place for early stage startups so they know about all of the resource available to them

Create a horizontal "system" that integrates blue tech innovation across verticals across Maryland including incubators, university assets, corporate work, Port Authority, government agencies, mentor/mentee system, mutual grant writing and perhaps even combining solutions into systems rather than orphaned isolated solutions.

Explore regional cooperation between MD, DE, VA, S. PA (major Chesapeake watershed boundaries not artificial political boundaries).

Next Operational Action Items:

Meeting like our first event - in April 2022

How we proceed structurally - 501c3, P 3, B corp…

Funding

What do we do online on bluetechmd.com to solve some of goals above

Series of "Blue tech Beer" nights at different incubators all over the state. Topics may include: Hart Miller Island, Benchmarking vs. other regions, Agriculture/Bluetech overlap- Aquaculture to Nitrate runoff, Hydroponics & urban farming, Invasive species - snake head, blue catfish, Coastal Resiliency

If we do a reverse pitch, MTech and others have experience and has offered to lend a hand